I've just spotted a fabric stash giveaway at
The Benner Daily
run by Shealynn.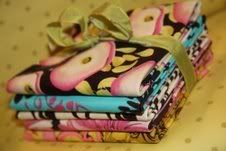 Those wonderful fabric would be great any crafty project. The fabric is also available at Lanie Jane's
Esty shop
. She has great collection of fabrics, I do love the Paula Prass, Flights of Fancy Eiffel Tower design.
So headover to Shealynn's blog to enter, the giveaway ends this

Saturday 7th March.